Let's Light Our Community Blue Kickoff
Monday, April 2, 2018 6:00 pm - 7:30 pm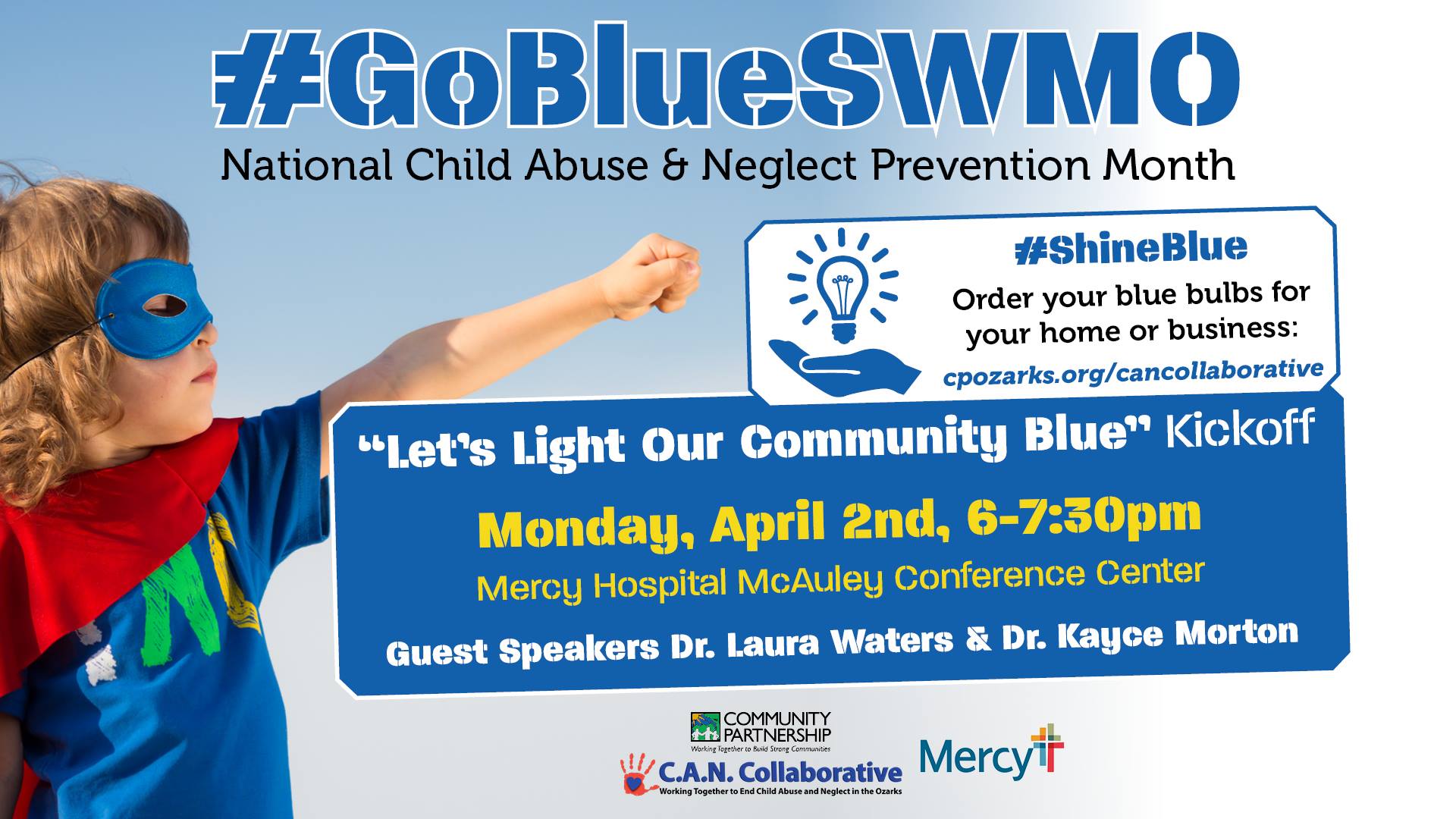 Location:
Mercy Hospital McAuley Conference Center
Description:
Child Abuse & Neglect stands out as an ongoing "red flag" issue in the Ozarks, which is why a number of local agencies - each providing vital services to at-risk children and families - become increasingly vocal in April for National Child Abuse & Neglect Prevention Month. Their goal each year is to create a sea of blue across Southwest Missouri and online, promoting awareness and action, initiating dialogue and raising essential funds needed to offer hope and help to children, families and victims.

This April, several members of the Child Abuse & Neglect (C.A.N.) Collaborative at Community Partnership of the Ozarks are leading the charge to #GoBlueSWMO, including Isabel's House, CASA of Southwest Missouri, The Child Advocacy Center, Inc., The Victim Center, FosterAdopt Connect SWMO, Good Samaritan Boys Ranch, Ozarks Regional YMCA, and Catholic Charities of Southern Missouri with support from Mercy Hospital Springfield, CoxHealth, Jordan Valley Community Health Center, Greene County Commission, City of Springfield, MO - Connect with SGF, Children's Trust Fund, Missouri KidsFirst and an ever-growing list of local leaders committed to making safe children a top priority.

Official #GoBlueSWMO efforts kick off April 2 with the planting of several "Pinwheels for Prevention" gardens at prominent locations across Springfield, followed by an official "Let's Light Our Community Blue" Kickoff Event, beginning at 6pm at Mercy's McAuley Conference Center. The event is open to the public and will provide an opportunity to connect with C.A.N. Collaborative agencies, pick up eye-catching blue light bulbs (available for pre-purchase at cpozarks.org/cancollaborative), and hear about the implications of childhood trauma on our community from guest speakers Dr. Laura Waters and Dr. Kayce Morton, who represent our region on the Board of the Missouri Chapter of the American Academy of Pediatrics. Official Go Blue Proclamations from Greene County and the City of Springfield will also take place during this special event.

C.A.N. Collaborative is also launching its "Let's Light Our Community Blue" campaign to encourage the community to #ShineBlue and spread awareness of the issue and get involved in prevention. Everyone is invited to purchase a blue light bulb to use in porch lights or other exterior lighting throughout the month of April.

Bulbs are only $2.50 each and may only be purchased online at cpozarks.org/cancollaborative.
This form stopped accepting submissions on April 2, 2018 6:00 pm CDT.